Judy Reilly, MBA

Educational Advocate
& Consultant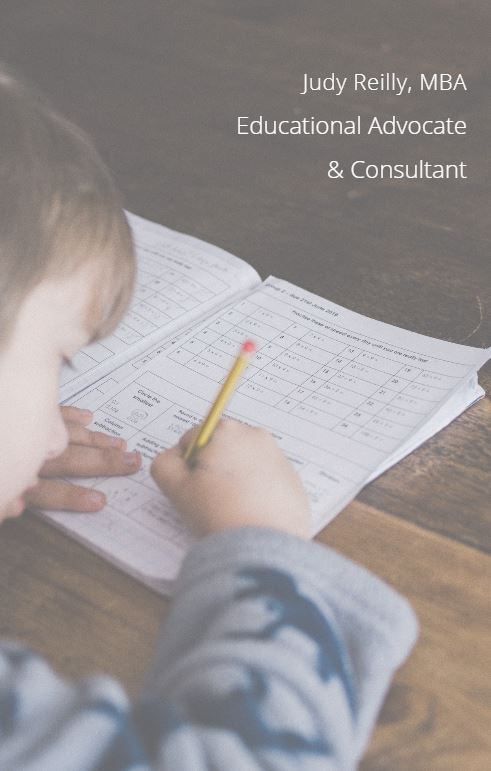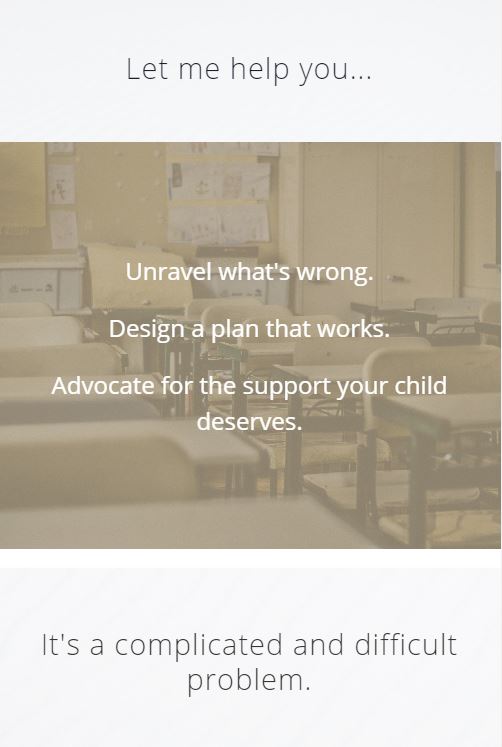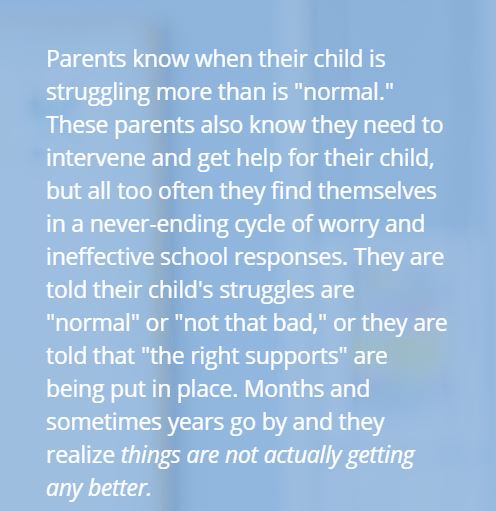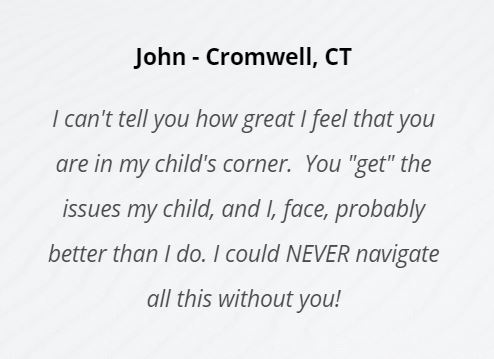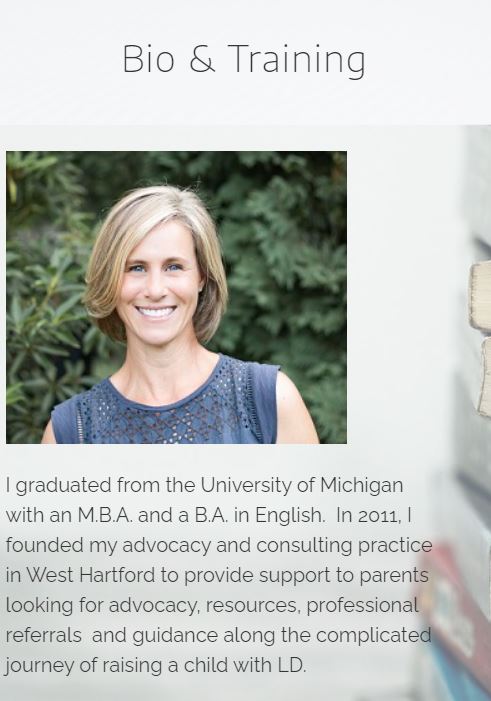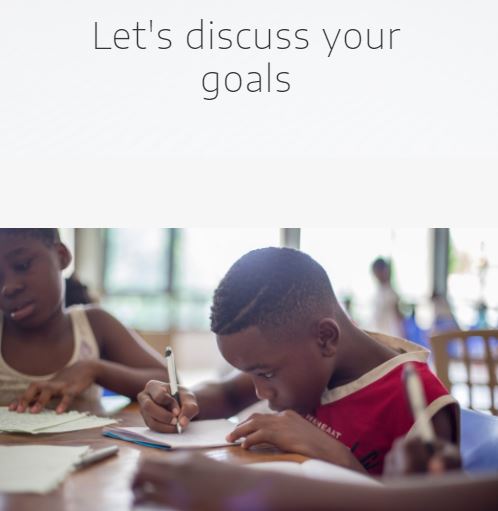 Unravel what's wrong.
Design a plan that works.
Advocate for the support your child deserves.
Unravel what's wrong.
Design a plan that works.
Advocate for the support your child deserves.
It's a complicated and difficult problem.
Parents know when their child is struggling more than is "normal." These parents also know they need to intervene and get help for their child, but all too often they find themselves in a never-ending cycle of worry and ineffective school responses. They are told their child's struggles are "normal" or "not that bad," or they are told that "the right supports" are being put in place. Months and sometimes years go by and they realize things are not actually getting any better.
When parents find me, they are almost always worried, and often they are also stressed, frustrated and worn out. That is because it takes specialized knowledge and training in education, learning differences and school districts to bring about real change for their child - knowledge and training parents simply don't have. I move quickly to help parents articulate to the school what is wrong, generate solutions and next steps, and ensure reliable and effective supports are put in place at school and home. Once parents add me to their team, they at last begin to see progress for their child's case. It is my priority to work collaboratively and respectfully with all team members, while never wavering in my pursuit of what we're all there for - to connect the struggling student to real help, real progress, and real life success.  
judyreillyllc@gmail.com.   (860) 913-8284
Special Education Advocacy
Who is this service for?
Special Education Advocacy is for parents of children struggling to succeed in school due to a learning disability or difference. Parents know their child needs more help, but identifying what is wrong and ensuring solutions are put in place or adjusted quickly and effectively at school is often an overwhelming, emotional and frustrating quest for parents.
What does this service entail?
I educate parents in how to play an active and powerful role in getting their child's needs met at school. I review records and evaluations, attend school meetings and guide parents in their communications with the school. Ensuring students' educational rights are met according to the Individuals with Disabilities Act (IDEA 2004) is at the center of my work with families.
Who is this service for?
Educational Consulting is for families who have decided it is time to identify alternative placements and programs for their child who is struggling at their current school due to a learning difference or challenge. Parents know their child needs a more appropriate environment and different kinds of support, but identifying a better program and understanding how it will be funded can be daunting.
What does this service entail?
If I have been working with a family within their school district, I already have an excellent idea of alternate appropriate placements and whether the school agrees/disagrees with outplacement. In these cases my services transition organically from in-district advocate to outplacement consultant. If a family comes to me as part of their own private search for a better school, I form a complete picture of your child's needs by combining knowledge gained through personal interviews with you and your child, with information from evaluations, special education records, transcripts, and private providers who work with your child. I identify, visit and evaluate schools and programs and develop a list of recommended options that align with your child's needs.
Executive Function Coaching
Who is this service for?
My Executive Function Coaching service is for high school and college-age students who are struggling to manage their day-to-day school lives and reach their academic and personal goals. Adolescents and young adults with ADHD and EF weaknesses know their lives continue to rapidly require higher levels of responsibility, but all too often they are not able to meet life expectations independently.
What does this service entail?
I provide 1-1 support for students who need help with organization, goal setting, task tracking, time management, problem solving, and self-advocacy. My coaching is rooted in my knowledge of the neurobiology and day-to-day manifestations of ADHD and executive function weaknesses. My unique approach involves frequent 1-1 (virtual) meetings, and significant communication between meetings to help clients stay on track.
/** * @var $module \Ucraft\Module */ ?>
Lauren - West Hartford, CT

Judy is nothing short of phenomenal. Besides her obvious expertise in education/special education law, she's one of the best communicators I've ever met. She explains things clearly and in a way that's both targeted to the specific audience (for parents who are not experts in the nuances of learning differences or special ed law), and also direct yet not at all antagonistic (for conversations/ negotiations with a school district). She's intelligent, strategic, practical, and attentive to detail. And she's compassionate — she's a parent herself who truly "gets" the emotional rollercoaster of the advocacy process and who always thinks holistically about what's best for our particular child. We marvel at our good fortune in having Judy on our team. Hiring her is one of the best decisions we've ever made.

John - Cromwell, CT

I can't tell you how great I feel that you are in my child's corner. You "get" the issues my child, and I, face, probably better than I do. I could NEVER navigate all this without you!

Jessica - West Hartford, CT

Thank you again so much for all you did at the school meeting. Seriously I can't imagine where we'd be without you!

Danielle - Bristol, CT

Such a successful meeting today, thank you! The school generally doesn't hear me and they make me feel intimidated. With you there, I finally felt heard clearly. I cannot thank you enough.

Grace - Canton, CT

What I love most about working with Judy is that her first priority is how to work collaboratively with the school district to design an IEP and goals to meet my son's needs. When it became apparent that we needed to find an outplacement for my son, she was there every step of the way helping me through the process. I am so thankful for her knowledge and support.

Jen - West Hartford, CT

Judy should be everyone's first call when running into a complex school-based difficulty. Not only does Judy come to the table with a wealth of knowledge concerning special education laws, her problem solving abilities are remarkable and her critical eye for consulting and delivery of care are tremendous.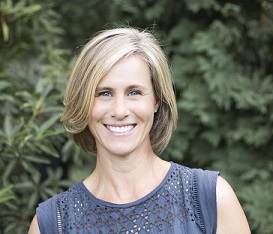 I graduated from the University of Michigan with an M.B.A. and a B.A. in English.  In 2011, I founded my advocacy and consulting practice in West Hartford to provide support to parents looking for advocacy, resources, professional referrals  and guidance along the complicated journey of raising a child with LD.   
I hold a certificate in advocacy and special education law from The William and Mary Law School - Institute of Special Education Advocacy. I participate in professional development and ongoing training via WrightsLaw Special Education Advocacy programs, trained 1-1 in ADHD coaching, and is am an active member of the Council for Parent Attorneys and Advocates (COPAA), Special Education Equity for Kids in Connecticut (SEEK), and the Council for Exceptional Children (CEC).  
I believe my advocacy success is due in large part to my ability to combine my experience in learning disabilities, training in business, and knowledge of special education law. My empathy for parents is without bounds, and my persistence in pursuit of student success is relentless. 
judyreillyllc@gmail.com.   (860) 913-8284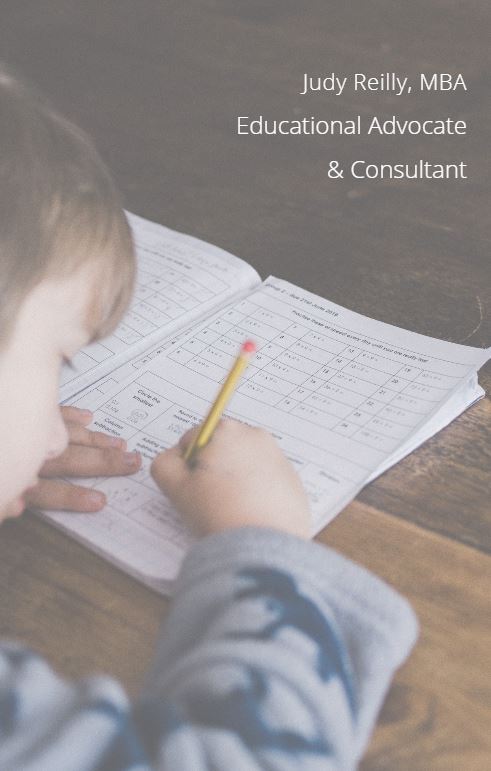 Unravel what's wrong.
Design a plan that works.
Advocate for the support your child deserves.